With all the holiday boozing that you went through recently, you're probably swearing off drinking alcoholic beverages for the rest of 2014. But a bit of beer every once in a while won't hurt, won't it? I'm sure you'll most definitely agree. In case you're feeling adventurous once again, make sure to take your beer experience to the next level. Try the beer styles below the next time you hit the local pub. You won't regret it and for sure you'll be savoring every last drop of your brew.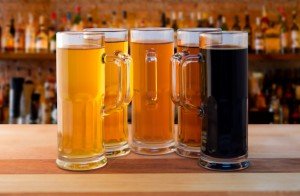 1. Pale Lager
According to Beer Advocate, pale lager is in some instances referred to as "all-malt" because it's not brewed with cereal supplements like rice or corn. In terms of appearance, pale lagers are golden and fizzy like a softdrink, but it doesn't seem light at all to taste. Full-bodied and malty, it tastes a bit bitter.
2. Witbier
As it sounds, witbier is beer made from wheat or oats. It's pretty fizzy in appearance and cloudy and pale. In terms of flavor, witbier literally offers one an "explosion" of strange but welcome and delightful flavors—such as orange and spices– on one's tongue.  A popular example of Witbier is Hoegaarden, which is widely available in most clubs, bars, or pubs in the United States.
3. Maibock
Maibock (pronounced as My Bock) is a Bavarian golden lager that also comes by different names: Helles Bock, Heller Bock, and Frühlingsstarkier. According to the German Beer Institute, maibock is popular among people residing along the northern edge of the Alps during hot summers and extreme winters. The beer style is made from pale malts, which lends it its golden color, and is heavily hopped. It contains 6 to 7 percent alcohol.
4. Blonde Ale
Beer Smith describes blonde ales as malty in flavor and aroma, and light in color and clear. It is not too fizzy like lagers and witbiers which makes it light on the stomach, and is sometimes characterized by a light hop aroma. English variants have a hint of fruit flavors and toasted malt flavor, but are not caramel-ish like lagers.
5. American Pale Ale
The American variant of the pale ale, unlike its British counterpart, is cleaner, crisper and well-hopped. It is also characterized by a fruity and floral bitterness and aroma. Based on Beer Advocate's profile of the beer, the beer style contains 4 to 7 percent alcohol by volume.
6. Saison
Also known as farmhouse ale, saison almost became forgotten until it has gone through quite a revival in the United States. Saison is quite complex with lots of fruity and earthy notes, spice notes, bitterness and sweetness—full of character, indeed.
8. Porter
The porter is a beer style that is said to have originated in London in the 1800s. It has been influenced by the style of brown beer and is aggressively hopped and made from brown malt. According to legend, the beer style was called porter because it was extremely popular among porters.
Sources:
http://infohost.nmt.edu/~armiller/beer/beersty1.htm
http://www.splendidtable.org/story/the-7-flavor-categories-of-beer-what-they-are-how-to-pair-them
http://www.germanbeerinstitute.com/Maibock.html
http://beersmith.com/blog/2013/03/21/blonde-ale-recipes-and-beer-style/